Greater Manchester Cancer Conference and Greater Manchester Cancer Awards 2022
This year the GM Cancer Conference returned to a face-to-face event and featured a range of speakers talking about this year's themes of collaboration – equality – innovation, and how these themes help us improve the lives of people affected by cancer in Greater Manchester and beyond.
Across the two day conference our Exercise Specialists led taster exercise sessions to engage the attending delegates in some activity. Each morning SJ and Eilish took the delegates through some morning stretches and flexibility to wake the body up and to get ready for the morning events. At lunch time on day 1 Karly and Alex provided an aerobic workout to get the body moving and build appetites for lunch. On day two our lunch time session was a little more relaxed with focus on mind and body as Rob lead an adapted Tai Chi session
The team had an exhibition stand where we could promote the programme to the delegates during the conference. The stand was busy with lots of people interested in finding out about our programme. The team actively discussed the details of the programme with fellow attendees, answered lots of questions and handed out informational booklets to assist with referring to us. We got to display our new and improved home exercise guides, examples of our prescribed gym programmes and our MyZone heart rate devices which support our participants with their exercise programmes.
The conference also saw the celebration of the inaugural GM Cancer Awards. The awards were an opportunity to celebrate all the outstanding work taking place within cancer services across Greater Manchester. We are thrilled to announce that Prehab4Cancer won the Patients' Choice award at the Greater Manchester Cancer Awards 2022 alongside the One Stop Lung Cancer Clinic. The award means so much to the team as it was voted for by the Greater Manchester Cancer Alliance User Involvement representatives, who were able to vote for any of the 18 finalists.
The GM Cancer conference and Awards were brilliant, and the team would like to thank all at GM Cancer for the organisation and delivery of fantastic conference.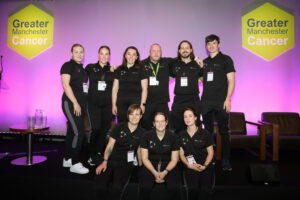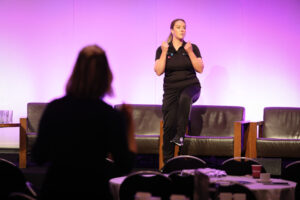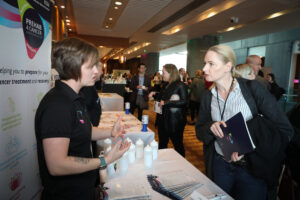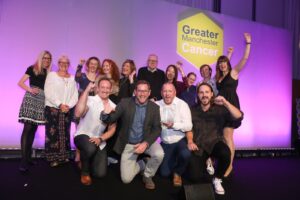 Prehab4Cancer Project Lead Zoe Merchant and User Involvement Representative Tony Collier were recently invited to present to national NHS cancer prehabilitation and rehabilitation colleagues in a webinar. Zoe talked about how Prehab4Cancer enables personalised care to be delivered to patients, whilst Tony gave a valuable and inspiring presentation on Prehab from a patients perspective. You can read their presentations here.
Prehab4Cancer received widespread press attention on 26 and 27 December 2019.
A story was delivered collaboratively with the NHS England media team, to release into The Telegraph and The Sun on Boxing Day. The coverage featured the GM programme along with similar, smaller projects taking place across the UK.
The story featured in print in The Telegraph, The Sun, The Guardian and The Times.
A Greater Manchester service user was interviewed by Sky News, featuring on a Boxing Day bulletin and the online media also picked up the story with attention across BBC, ITV, The Daily Mail, the Metro and a range of other online titles